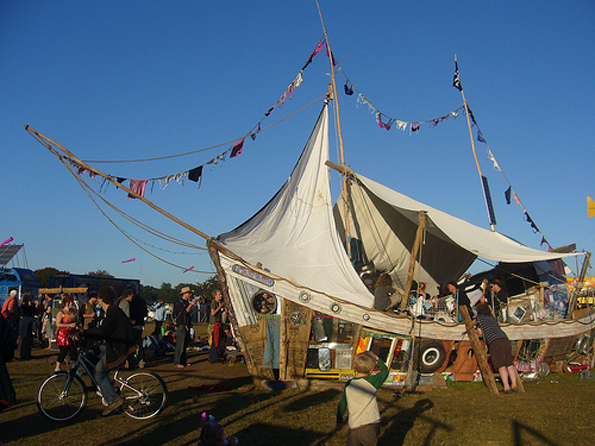 Early in 2007 we explored how best to communicate the reality of climate change in a way that would get people engaged and on board. From this evolved the Junk Boat. The boat encapsulates many of the ideas we want to express and is made from scrap yard junk and domestic recycling, apart from the main frame which is of Douglas Fir from a sustainably managed woodland in Wales.
The boat sailed to Glastonbury festival, the Big Green Gathering and Shambala Festival in the summer of 2007. It hosted workshops, talks, music, story telling and a full theatrical pirate opera, journeying through time and space following the trail of rebels, revolutionaries and resisters.
It is a space for everyone. The boat encourages imaginative play from both children and adults – a temporary autonomous zone for people to be present and creative.
The Junk Boat is self sufficient too, all lights, sound and music powered by photo-voltaics and a small wind turbine. The green roof provides biodiversity and she collects rain water for watering the plants…